DISQO & Do the WeRQ: LGBTQ+ advertising more challenging under boycott threats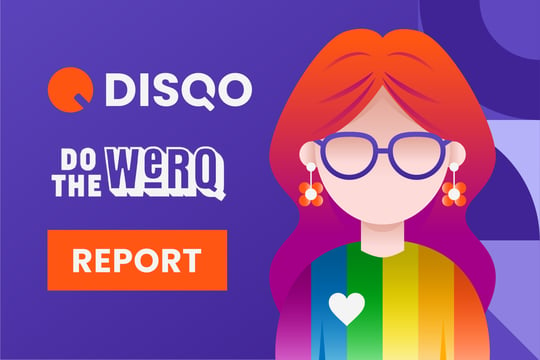 55% of people say they've boycotted a brand due to social stance; 65% of LGBTQ+ people think more positively of "woke" brands
September 11, 2023, Los Angeles, CA – Customer experience (CX) platform DISQO and Do the WeRQ – a community increasing LGBTQ+ representation in advertising – released a new report, "LGBTQ+ Advertising: From Boldness to Backlash," exploring consumer perspectives on boycotting and brand "wokeness." The third annual study about receptivity to LGBTQ+ inclusion in advertising underscores the need for brands to test messages, plan for boycotts, and consider the value of being seen as woke against their near- and long-term revenues.
"While consumer backlash is a real risk, our new insights suggest that today's culture wars are interwoven with purchase decisions in ways we can't ignore," said Kate Wolff, Do the WeRQ Co-Chair; CEO & Founder Lupine Creative. "Brands don't need to operate as political entities, but they must acknowledge that this environment doesn't allow them to sidestep conversations about social justice."
What are consumers' boycotting behaviors?
Boycotting has become common, but its nature is changing with every controversy. Some consumers punish (or reward) brands with their wallets, while others take their grievances to social platforms. Behaviors vary significantly by generation and self-identification as a member of the LGBTQ+ community or not.
Boycott Validity: 85% of LGBTQ+ consumers (the fastest growing minority group in the U.S.) believe that boycotts are a valid way to express feedback, which is more than the general population (70%).
Boycott Motivation: 80% of LGBTQ+ consumers said they boycotted a brand because they disagreed with its position, while only 55% of general consumers said the same.
Boycott Permanence: Half who said they had participated in a boycott said they never returned to the brand(s) again. Of those who did return, ~60% boycotted until the brand(s) changed its position.
Boycott Variety: Older adults tend to stop buying the product or service altogether, never to return, while younger and LGBTQ+ adults are more likely to take additional steps beyond action with their wallets.
Are perceptions of "wokeness" a virtue for brands?
Brands seen as woke get diverse reactions. While wokeness has become more well-known as a concept, consumers say that it's losing its meaning.
What is Woke?: About 70% of consumers are familiar with the term "woke." Most associate it with LGBTQ+ rights (58%), Black rights (53%), and ethnic minority rights generally (52%).
Woke Associations: Perceptions of wokeness vary significantly. One-third think more highly of a woke company, another third think less of it, and the other third are indifferent.
Woke Relevance: Only 20% believe the term is an important slogan in advocating for social justice issues. This sentiment is stronger among Gen Zers (32%) and LGBTQ+ adults (33%).
What do consumers believe a brand's role should be in DE&I progress?
Compared to last year's study (fielded in June 2022, Pride month), this year's study (fielded in May 2023) revealed a 23-point drop in recall of LGBTQ+ inclusive advertising. This lack of representation outside of Pride is noticeable, even though consumers, especially those identifying as LGBTQ+, believe brands have the power to make things better for LGBTQ+ people.
Advertising Impact: 71% of consumers believe brands can impact perceptions about LGBTQ+ people, and 62% believe they can also impact LGBTQ+ political decisions.
Discrimination Protections: About 75% think it's important for brands to actively prevent LGBTQ+ people from discrimination, and about 33% think it's "extremely important." These numbers increase to 97% (important) and 70% (extremely important) for LGBTQ+ adults.
Meaningful Commitment: 36% of LGBTQ+ adults say they would stick with a brand after backtracking on a social issue (+13 points vs. overall), which perhaps suggests that they've come to expect token support, like rainbow washing in June.
"Today, brands face a higher bar for authentic allyship, and consumers will demand accountability with their wallets," said David Grabert, Vice President of Brand & Communications, DISQO. "Younger consumers, particularly, will make purchase decisions based on a brand's alignment with their values – and also use their voices to compel companies to listen. Brands should test and measure all of their LGBTQ+ campaigns; those who remain steadfast in their allyship can propel long-term brand growth by instilling greater trust with their customers."
Insights were sourced from 10,015 consumers in DISQO's audience, May 23 - 24, 2023, and weighted to represent the US population. Download the "LGBTQ+ Advertising: From Boldness to Backlash" report now.
About DISQO
DISQO is the CX platform for understanding every customer experience. Businesses trust DISQO to power better decisions for every customer, touchpoint, and outcome. DISQO's insights, agile testing and advertising measurement products are powered by millions of consumers on the industry's largest opt-in consumer data platform. DISQO is recognized in Deloitte's Fast 500 and Ad Age's Best Places to Work. Follow @DISQO on LinkedIn and Twitter.
About Do the WeRQ
Founded in 2020, Do the WeRQ is a community and platform with a clear and important mission: to increase LGBTQ+ creativity, representation, and share of voice in the marketing and advertising industry. Our members and volunteers work to deliver inspiration, mobilization, and celebration that drive sustainable, visible change. In pursuit of this mission, Do the WeRQ creates and leads a range of initiatives including research and data solutions, insightful programming and networking opportunities — including some of the industry's most talented and proudly out thought leaders. Follow @DotheWeRQ on Twitter and Instagram.